Paul B. Preciado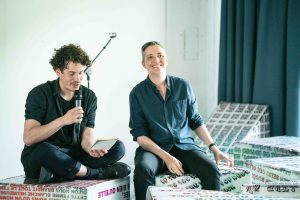 Viktor Neumann / Paul B. Preciado, The Parliament of Bodies, 15.6.2019
Paul B. Preciado er filosof, kurator og aktivist med fokus på kjønns- og seksualpolitikk.
Han har skrevet Countersexual Manifesto (Columbia University Press, 2002), Testo Junkie: Sex, Drugs, and Biopolitics (The Feminist Press, 2013) og Pornotopia (Zone Books, 2014), som han fikk Sade-prisen for i Frankrike.
Preciado underviser Philosophy of the Body and Transfeminist Theory ved Université Paris VIII-Saint Denis og ved New York University. Han var kurator for det offentlige programmet ved documenta 14 (2017) og Head of Research samt Director for Independent Studies Programme (PEI) ved MACBA i Barcelona.
Han har kuratert en rekke utstillinger og prosjekter, blant annet The Passion According to Carol Rama ved MACBA i Barcelona og andre steder (2013–16), IM/MUNEved Emmetrop i Bourges, Cuir International ved Museo Nacional Centro de Arte Reina Sofía i Madrid (begge i 2011) og PornPunkFeminism ved Arteleku i San Sebastián (2008). Han er kurator for den taiwanske paviljongen ved den 58. Venezia-biennalen (2019).
Paul B. Preciado bor og jobber i Paris.

RELATERTE ARRANGEMENTER