Introduction Days and Opening of Belgin
Saturday, 6.4.
11am–11pm
With contributions by Bergen, John Barker/Ines Doujak, Stacy Brafield, Capital Drawing Group, Banu Cennetoğlu, Laressa Dickey, Iris Dressler, Ruth Ewan, Magdalena Freudenschuss, Lottie Hoare, Julio Jara, Hiwa K, Nora Landkammer, Andrea De Pascual (Pedagogías Invisibles), Tomás de Perrate, Daniela Ramos Arias, Daniel Seymour, and Karin Schneider
•Talks, debates, performances, screenings, music, in English
•Belgin, Rasmus Meyers allé 3, 5015 Bergen
•Landmark, Kunsthall, Rasmus Meyers allé 5, 5015 Bergen
•Admission free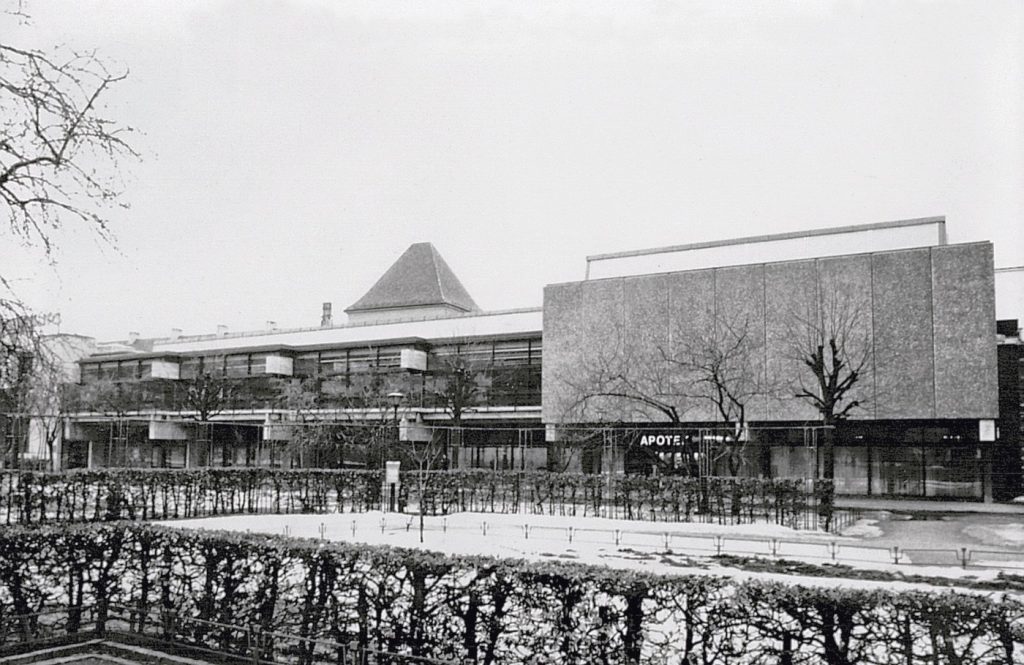 Bergen Assembly 2019, Actually, The Dead Are Not Dead, begins its public programme on 5 April and 6 April 2019 with the opening of its central working, meeting, and public space Belgin [ˈbælgən]. The space's name refers to the Turkish singer Belgin Sarılmışer (1958–1989), who adopted the alias 'Bergen' after the Norwegian harbour city. With Belgin, Bergen Assembly 2019 opens a new space in Bergen's city centre, which is conceived from the very beginning not only as a venue for Bergen Assembly itself but also as a shared space that is open to the activities of local groups and initiatives.
The introduction days of Bergen Assembly 2019, taking place both at Belgin and its neighbour Landmark, Kunsthall, comprise talks, debates, performances, and screenings introducing first aspects, concerns, formats and aesthetics of Actually, The Dead Are Not Dead. It will discuss the notion of assembly, the emancipatory potentials of art, aspects of sharing knowledge and experiences, and what it could mean if the dead were actually not dead.
With contributions by Daniel G. Andújar, John Barker/Ines Doujak, Bergen, Stacy Brafield, Capital Drawing Group, Banu Cennetoğlu, Hans D. Christ, Laressa Dickey, Iris Dressler, Ruth Ewan, Magdalena Freudenschuss, Lottie Hoare, Julio Jara, Hiwa K, Alexander Kluge, Nora Landkammer, MultiTati (Tatiana Palanca), Viktor Neumann, Tomás de Perrate, Andrea De Pascual (Pedagogías Invisibles), Daniela Ramos Arias, Karin Schneider, Daniel Seymour, Simon Sheikh, Emma Wolukau-Wanambwa, and others.



SATURDAY, 6.4.2019
11AM–11PM
AT BELGIN
11am
Bar Belgin (snacks and drinks)
SHARING KNOWLEDGE AND EXPERIENCES OF RESISTANCE AND EMANCIPATION
As the German writer and filmmaker Alexander Kluge says, it is a mistake to think that the dead are dead. He proposes to deal with them, sharing their experiences, for example in regards to long-gone, buried, and unused moments of possible emancipation that enable the imagination of another present and future. One important concern of Bergen Assembly 2019 is to explore alternative methods of sharing experiences and knowledge of resistance and emancipation, regarding aesthetic as well as educational forms and practices.
Part I: Educational Forms and Practices
11.30am
Iris Dressler: Introduction
11.45am
Daniela Ramos Arias, Stacy Brafield, Andrea De Pascual (Pedagogías Invisibles): Education and Mediation of Bergen Assembly 2019 (talk and discussion, 60')
The education and mediation of Bergen Assembly 2019 takes the three positions – Assembly of Idiots, Doing Assembly, and Assembly of Phantoms – as defined in Bergen Assembly 2019's concept as a starting point. It provides an approachable and inclusive entry point to the triennial. The education and mediation focusses on utilising the triennial as a place for exchange, offering the opportunity to share experiences and knowledges, seeking positions that were not foreseen and remain open to the unexpected. The mediation and education will be run by Stacy Brafield and Daniela Ramos Arias and has been developed in collaboration with the collective Pedagogías Invisibles. For the Bergen Assembly Introduction Days, Stacy Brafield, Daniela Ramos Arias and Andrea De Pascual/Pedagogías Invisibles will introduce the education and mediation for Bergen Assembly 2019.

12.45pm
Bar Belgin (Lunch, snacks and drinks)
1.45pm
Ruth Ewan, Lottie Hoare (talk and discussion, moderated by Simon Sheikh, 60')
2.45pm
Nora Landkammer, Karin Schneider: Past Violences, Present Entanglements: Learning and Difficult Heritages (talk and discussion, moderated by Emma Wolukau-Wanambwa, 60')
In education programmes that attempt to open spaces for learning about and from difficult, potentially contentious histories, the violence of the past connects with the positionalities, positions and memories of present-day participants. Which pedagogical situations could make these entanglements productive? And what happens if they are silenced and glossed over? The presentation will discuss observations made in the frame of the project TRACES – Transmitting Contentious Cultural Heritage with the Arts, in guided tours and learning programmes in exhibitions and memorial sites in Germany and Austria that aimed to foster debate and personal engagement with histories of colonialism and of Nazi crimes, including our own practice as museum educators. Focusing on selected 'episodes' from educational practice we attempt to understand how participants effectively engage with history, and the entanglements and conflictive spaces created through this engagement.

Part 2: Aesthetic Forms and Practices
4pm
Magdalena Freudenschuss: preparing4prison (presentation and Q&A, 30')
preparing4prison(p4p) collects experiences, stories, and best practices of the involuntary assemblies of people imprisoned due to their activism. It combines them with the insights and perspectives of their supporters, their families, and their lawyers. Virtually assembled, p4p offers an easily accessible crisis set that does not prescribe a certain way of coping with this particular kind of crisis, but allows for inspiration and guidance as much as for rejection of the proposed strategies. In the p4p workshops within Bergen Assembly 2019, Magdalena Freudenschuss and Peter Steudtner open the space up to local activists as well as to participating artists, inviting additions to the assembled stories and experiences, and allowing for the individual or collective reassembling of the collection.
4.30pm
Hiwa K: Star Cross, 2009, (video, 12:14')
Star Cross is drawn from a story told to Hiwa K by his oldest brother, Adib, when he was eleven. Adib had just returned from the prison where he was held captive for three months. He had tried to escape from the regime in Iraq and go to Europe, but he found himself in a Pakistani jail where he was asked by the other prisoners to solve the following riddle, told to him in the form of fairytale: A man goes to the West and falls in love with the Princess there. He asks the King for her hand. He sends the man to prison and gives him a riddle: 'If you make a cross out of this star without touching it then you will be my son-in-law, but if you don't manage this by tomorrow morning, you will be hanged in public.'
4.45pm
Laressa Dickey: re:assembling emotional labour (presentation and Q&A, 30')
re:assembling emotional labour is a process of re:appropriation and exploration of emotions and emotional labour in the context of political imprisonment. Laressa Dickey and Magdalena Freudenschuss re:work their experiences during 2017 as partners of political prisoners, as part of Bergen Assembly. Re:assembling goes along with dis:assembling; the dis:assembly intended by state violence is subverted by producing images of humour, strength, and togetherness, within the frame of the photoautomat. By means of text production, this re:assembling process follows the depths and heights of resilience, resistance, and trauma. Feminist perspectives are tool, motivation, and reference on that path.
5.15pm
Hiwa K: Do You Remember?, 2017 (video, 4:51')
This video documents an intervention undertaken by Hiwa K and a group of local activists on 25 April 2011 in Sarai Azadi Square, Slemani, nothern Iraq, after two months of the civil protest. The international media have never properly covered the protest, which was finally brutally quashed through armed force and numerous threats by the local government. Legal demonstrations were subsequently prohibited. On 18 April 2011 in Sarai Azadi Square, the stage from which the activists were addressing the people was burnt.
5.30pm
Capital Drawing Group (talk and discussion, moderated by Simon Sheikh, 60')
Capital Drawing Group (Andrew Cooper, Enda Deburca, Dean Kenning, John Russell) grew out of a Marx reading group. The project collectively illustrates Das Kapital and is an attempt to visualise the economic and political forces that dominate our lives today, often in disguised and complex ways, as described by Marx. The ongoing work is to be understood as a reading and as a political and pedagogical resource. For the Bergen Assembly Introduction Days, Capital Drawing Group presents a series of images from different sections of Capital and describes some of the ways in which these have been put to use.

6.30pm
Bergen: music clips, selection and introduction by Banu Cennetoğlu (videos, 15')
The Turkish singer Bergen, alias Belgin Sarılmışer, adopted the name of the Norwegian city. Famously known in the 1980s as the 'Queen of Arabesque', Woman of Agony was one of her most popular songs. The song title was later identified with the singer, whose own life was characterised by agony. Her jealous husband threw acid in her face one night when she was on stage, blinding her in one eye. Despite this injury, she continued performing, using her glamorous hairstyle to cover the eye. The self-confident and provocative manner in which she dealt with the attack made her even stronger and more popular as a public figure. Against all odds, she kept her ties with her husband, but in 1989 he shot and killed her at the age of 28. Bergen nevertheless remains an icon in Turkey for the emancipation of women and resistance to domestic violence.
7 pm
ON ASSEMBLIES II
The Political Parties project, conceived by Pedro G. Romero and María García for Bergen Assembly 2019, is based on and part of their ongoing research project formas de vida (life forms), which explores the relationships between modernity, popular aesthetics, and diverse Roma cultures, especially flamenco, from the 19th century to today. In Bergen, Romero and García are focusing on the political implications of the feast, which resonates in the double meaning of the English term 'party'. The kris (the Roma court that can be convened anywhere) serves to mediate conflicts and regulate the legal, social and moral order of Roma groups, independently of the respective local law. Traditionally, the krismerges into a feast organised by the victor of the dispute.
Iris Dressler: Introduction
Tomás de Perrate on Serafín Estébanez Calderón's Asamblea general (General Assembly) with an intervention by Julio Jara (video performance, 20')
Political Parties is structured starting from a working hypothesis: the text Asamblea general (1846) by Serafín Estébanez Calderón, one of the first texts in the history of what would subsequently be called flamenco, doesn't only describe a celebration but is in fact the description of a kris, an assembly at which the Roma of Triana, Málaga and Cádiz solved their troubles, pledged their children and organised their business. This ambivalence of celebration is an affirmation of the public sphere, i.e., a literal embodiment of a parliament, a court, a trade union. The voice of Tomás de Perrate, a Roma flamenco singer and direct descendant of one of the families gathered at the celebration anticipates the text Romero and García will use as an index for Political Parties.
Daniel Seymour: Flamencologia, 1970 (video, 20')
In 1972, after attending the Encuentros de Pamplona (The Pamplona Meetings, a contemporary music event), Jessica Lange and Paco Grande visited their friend Danny Seymour in Setenil de la Sierra. There they discovered that one of the stars of the avant-garde encounter, flamenco guitarist Diego del Gastor, was based nearby, where he followed his personal way of life. Darcy Lange, one of the guitarist's pupils, used to say that Diego del Gastor had not only managed to make flamenco gatherings a job, a way of earning a living, but also and undeniably a manifesto of autonomy and political challenge. Danny Seymour filmed these sessions in two experimental sequences that include a philosophical speech by Diego del Gastor himself on his understanding of life: one in the actual town of Setenil and another in the country house known as el Cortijo Espartero, a true factory of lumpen productivism that Dan Graham has compared to Andy Warhol's Factory.
Julio Jara: Los mil y un cartón (One Thousand and One Cardboards, performance, 20')
The regular work of Julio Jara, artist, poet and performer established in Madrid since the eighties, focuses on the homeless, on immigrants with drug abuse problems and on transgender refugees. He carries out this work for a religion based institution in Madrid called Martín de Porres. Los mil y un cartón is one of his works based on an open collection of narratives on how individuals spent their first night outdoors, in that fuzzy and hostile outside world that we find threatening. Making that first night on the streets public is an eminently political gesture. With these elements, Julio Jara creates songs, dances and gestures, endeavouring to project a specific form. Furthermore, the work moves between collaboration and anonymity, as the idea is naturally to try and leave a trace, any trace.
8.30pm
John Barker/Ines Doujak: Masterless Voices, 2014 (video, 30')
Masterless Voices is a musical based on the themes of carnival, utopia, and rebellion. It begins with a singing mountain. Once, European explorers climbed the Andes on the backs of indigenous carriers. Fed up with the exploitation of its resources, the mountain dons a skirt and sets out for carnival. Masterless voices sing their unforgiving songs in the dark, sparks fly, and working women tell us that they are not dressed for conquering. A shameless investigator – sometimes naked and sometimes dressed in camouflage – goes out and about among the carnival masses in Bolivia and finds herself with a group of Brazilian Baile Funk dancers. She does not regret anything.

Bar Belgin (drinks)