Charles Roka / Situationist International / Raisa "Raya" Bielenberg and Tore Jarl-Bielenberg / Gypsy Legacy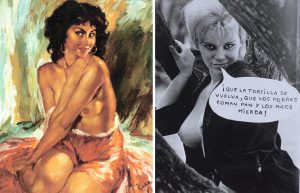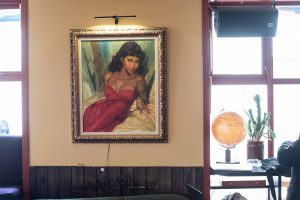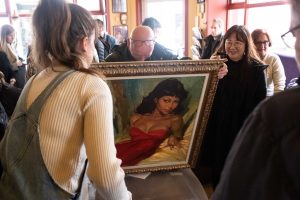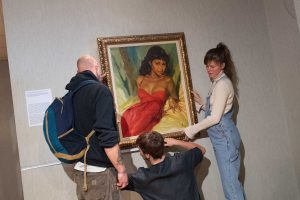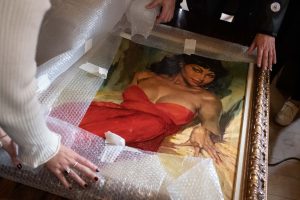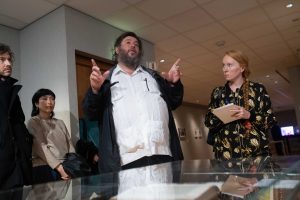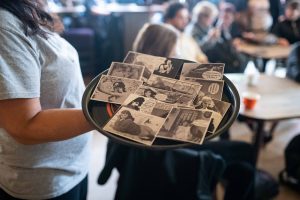 Venstre / Left: Charles Roka, "Sigøynerpike", udatert / n.d.; høyre / right: International Situationist, fotografi fra serien / photograph from the series "Filles pour l'Espagne", 1964. (i snakkeboblen: det er på tide å snu tortillaen: la de fattige spise brød og de rike spise dritt! / Text reads: It's time to flip the tortilla: let the poor eat bread and the rich eat shit!)

CONTRIBUTION
GYPSY GIRL, 2019
Celebration and relocation of the painting Sigøynerpike (Gypsy Girl) by Charles Roka from the Bergen bar Folk og Røvere (People and Thieves/Villains) to KODE 1 Permanenten / Cabinet. Presentation of a selection of photographs from the series Espagña en el corazon (Spain in the Heart), 1964, by the Situationist International at Folk og Røvere in exchange for the Roka painting
Charles Roka was a Hungarian-Roma artist who lived and worked in Norway for most of his adult life. His paintings were extremely popular, particularly the series of portraits of a 'gypsy girl', which he started in 1939. These paintings immediately captured the world's imagination as an erotic symbol, a kind of camp Carmen, an emblem of kitsch that anticipated many of the dynamics of Pop art, from Andy Warhol's portraits of Marilyn Monroe to the 'pinup paintings' by Mel Ramos. The work presented many controversial aspects – objectification of women's bodies, capitalist desire, and the alienation of representations by means of advertising and its banalisation – but all of these elements were present almost without ambiguity, and the fact that his paintings made Roma culture – 'gypsiness' – resonate in spaces of bourgeois hegemony, disrupting the homogeneity of society and the American way of life, is enough to invite us to take an interest in the success of Roka's Gypsy Girl.
The same disruptive effect was true of the pinups that the Situationist International disseminated in the series España en el corazón, in which the usual objectified women invited people to come to Franco's Spain and commit revolutionary acts. These works – the authorship of which was multiple and anonymous (although Michèle Bernstein and Raoul Vaneigem contributed to the ones in Spanish and J.V. Martin and Jacqueline de Jong to the ones in Danish) – clearly intended to take advantage of the ease with which representations of women's bodies circulate as capitalist merchandise in order to infiltrate
an ideological counter-discourse. At the same time, the medium – the body-currency of women – became the subject of critique.
Raisa 'Raya' Bielenberg (b. 1935, USSR) is a Roma singer and dancer, now living in Norway with her partner, the journalist and scholar of Roma culture Tore-Jarl Bielenberg (b. 1935, Oslo). On her own or with her group The Gypsy Legacy, Raya has been an enduring part and a symbol of a way of understanding Roma culture (café-concerts, cabarets, circus) since the late 1960s. With her poetry and her experience, she is an exceptional performer to attempt our proposed hermeneutic exercise in relation to the painting by Charles Roka (1912–1999).

RELATED PLATFORMS