Darcy Lange / Maria Snijders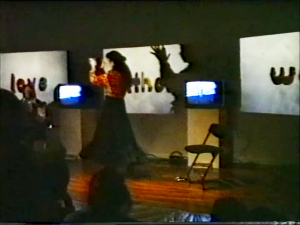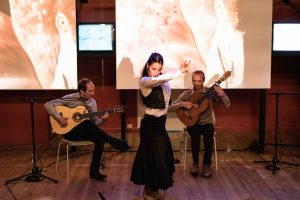 Darcy Lange / Maria Snijders, "Aire del mar", 1988, video stills, courtesy of the Darcy Lange Estate and Maria Snijders
b. 1946, Urenui, New Zealand; d. 2005, Auckland, New Zealand / b. 1957 Tilburg,The Netherlands; lives in Auckland, New Zealand

CONTRIBUTION

Aire del Mar (Re-construction), 1988–94/2019
Multimedia performance
Courtesy of the Darcy Lange Estate and Maria Snijders*
Darcy Lange travelled to the Cortijo Espartero in Morón de la Frontera, Seville, on numerous occasions to work and study guitar with Diego del Gastor. Under the pseudonym Paco Campana, he worked as a flamenco guitarist and continued to perform in New Zealand until his death in 2005. Lange also included flamenco in two complex multimedia operas: People of the World (1983–84) and Aire del Mar (1988–94). In the latter, he likened the struggles of the Maori and the Roma people against colonial oppressors, but also their roles in the defence of nature. He described Aire del Mar as an 'audiovisual environmental opera', featuring Diego del Gastor and his people, as well as guitar playing by Paco Campana. Years earlier, in the 1970s, Darcy Lange had applied for British Film Institute funding for his project Flamenco as Work, in which he sought to document flamenco's capacity to turn fiesta into productive work. However, the application was rejected.
Art historian Benjamin Buchloh considered Darcy Lange an exemplary artist, praising his long recordings of work on the land, in the city and on Fordist assembly lines, his multi- channel videos on the 'cognitariat', and on school and university learning, as well as his exploration, through flamenco, of fiesta as a form of production. Dan Graham described the activities of Darcy Lange at the Cortijo Espartero as being kind of like the Factory in New York, but in 1960s Morón de la Frontera, with the guitarist Diego del Gastor as a kind of wild Andy Warhol. Photographer Allan Sekula also considered Lange's research into leisure and fiesta as essential work, and key to understanding the value of art and its circulation in modern societies.
Aire del Mar is a multimedia opera by Darcy Lange. From 1973 to 1988, Lange rehearsed both the audiovisual staging and the flamenco guitar playing (toque) in the style of Diego del Gastor (b. 1908, Arriate; d. 1973, Morón de la Frontera), his teacher at the Cortijo Espartero, where he collaborated with other flamenco artists. This reconstruction of the piece has been carried out with the participation of Tractora Koop and Pedro G. Romero, and the artistic team Javiera de la Fuente, Mark Brown, José Ismael Siera and Marco de Ana. It is produced by Tabakalera Donostia/San Sebastián with the support of the Sala de ensayo (Rehearsal Room) project at Alarcón Criado gallery.

*Complete Credits
Darcy Lange
Aire del Mar, performance (Re-construction)
2019
Video, slides, live dance, singing and Spanish gutar performance
Variable dimensions
Production:
1988 – 1994 – Darcy Lange & Maria Snijders
February 2019 – Tabakalera (Spain) – with support from Govett Brewster Art Gallery and NgaToanga Sound and Vision (New Zealand). With endorsement and permission from the Darcy Lange Estate and Maria Snijders.
September 2019 – Bergen Assembly – with support from Tabakalera, Govett Brewster Art Gallery and Nga Taonga Sound and Vision.With endorsement and permission from the Darcy Lange Estate and Maria Snijders.
Darcy Lange created and presented the performance Aire del Mar during 1988 and 1994. The reconstruction of the Aire del Mar performance was carried out for the first time on the occasion of the exhibition Landa Lan: A Documentation of Darcy Lange curated by Tractora Koop. E., which was presented in Tabakalera between 2018 and 2019. The research and technical coordination for the reconstruction of this performance has been carried out by Tractora Koop. E. in collaboration with Darcy Lange Estate, Govett-Brewster Gallery and Nga Taonga Sound and Vision.
Tabakalera was in charge of the production.
Artist: Darcy Lange
Spanish Guitar: Marco El Escocés, José Ismael Sierra
Dancer: Javiera de la Fuente
Cante singers: Javiera de la Fuente, José Ismael Sierra
Choreography: Marco de Ana
Tecnical assistance: Jaime de los Ríos, Tractora Koop. E.
Digitalisation and photographic restoration: Clara Sánchez-Dehesa, Jabi Soto.
Artistic advisory: Pedro G. Romero, Mercedes Vicente
Research and coordination: Tractora Koop. E. (Usue Arrieta, Ainara Elgoibar, Vicente Vázquez, Marc Vives).
Production: Tabakalera

RELATED PLATFORMS