Imogen Stidworthy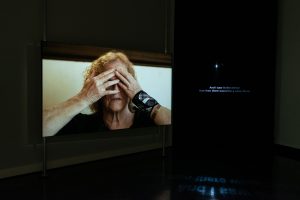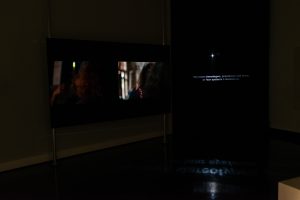 Imogen Stidworthy at Bergen Kunsthall for Bergen Assembly 2019 Photo by Thor Brødreskift
b. 1963, London, UK; lives in Liverpool, UK

CONTRIBUTIONS
Iris [a fragment], 2018–19
Two-screen, synchronised video installation, 14'30", stereo sound, Swedish
and English
Iris [a fragment] focuses on Swedish therapist and writer Iris Johansson. Johansson was non-verbal until she learned to speak at the age of 12 and eventually also to write, at the age of 30, but as she says, ' I will always be autistic' and part of her remains in the non-verbal. Much of the time Johansson inhabited a mind-out-of-body space she calls the 'real world' or 'out'. Her father and later she herself worked hard to connect her with 'ordinary reality'. After feeling connected with another person for the first time, she started to train her behaviour to be more socially acceptable by studying people around her and on the cinema screen. This self disciplining was not so much a restraint as a freedom; a way to make the social contact she desired more possible.
Iris [a fragment] comes out of Imogen Stidworthy's long-term research into voicing on the borders of language. Iris Johansson figures as a 'go-between' between verbal and non-verbal being. The work was filmed in Dahab in South Sinai, Egypt, where Johansson lives and works for several months each year, and her home in Fagersta, Sweden. The two-screen installation focuses on a formative moment when, at the age of 12, Johansson's father confronted her with her own reflection in the mirror.
Stidworthy participated in Bergen Assembly 2013 with her specially produced video installation A Crack in the Light (2013). Her project for Bergen Assembly 2019 was realised with the support of Liverpool John Moores University (UK) and Lund University, Sweden.
RELATED EVENTS
To be announced soon.

RELATED PLATFORMS