Joscelyn Gardner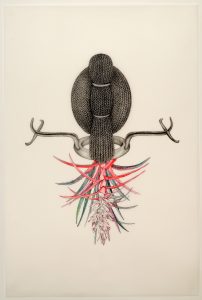 Jocelyn Gardner, "Bromeliad penguin (Abba)", 2009–11, from the series "Creole Portraits" III
b. 1961, Bridgetown, Barbados; lives in Ontario, Canada



CONTRIBUTION

Joscelyn Gardner is a Caribbean-Canadian artist who primarily makes prints and multimedia installations. Her practice probes colonial material culture found in British and Caribbean archives in order to explore her (white) Creole identity from a postcolonial feminist perspective. She is a Professor in the School of Art & Design at Fanshawe College in London, Ontario, Canada and founder of the artist collective Print London.


Convolvulus jalapa (Yara) and Bromeliad penguin (Abba)
From the series Creole Portraits III: 'bringing down the flowers…', 2009–11
Hand-coloured stone lithographs on frosted Mylar, 91 × 61 cm


The hand-coloured lithographs in the series Creole Portraits III show the backs of women's heads with intricately braided Afro hairstyles caged within iron slave collars. Sprouting from the base of the head, as if part of the same organism, are species of abortifacient plants that were secretly used by enslaved women in the 18th century. This risky strategy to reclaim control over their bodies through abortion was an act of political resistance against their twofold exploitation as enslaved workers and as 'breeders' of the next generation of slaves.

The fetishistic slave collars in these prints are artistic interpretations inspired by historical documents. Similar necropolitical torture-apparatuses were used to punish female slaves accused of inducing abortion, some of whom were forced to wear the contraptions until becoming pregnant again. Delicately hand-painted with watercolours, as was characteristic of natural history engravings of the period, each portrait is 'named' for one of the botanical specimens using the established Linnaean binomial system of nomenclature of the period in tandem with each slave's plantation name, thereby parodying imperial taxonomical systems.


RELATED PLATFORMS
Exhibition