Juliana Cerqueira Leite / Zoë Claire Miller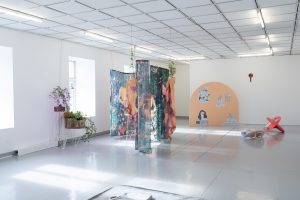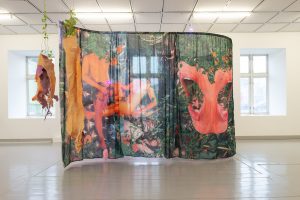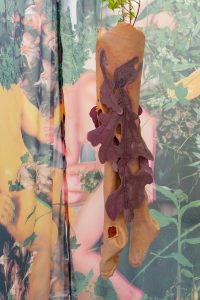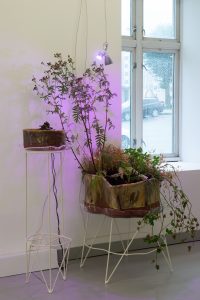 ergen Assembly 2019 at HKS – Juliana Cerqueira Leite / Zoë Claire Miller. Photo by Thor Brødreskift
b. 1981, Chicago, USA; lives in New York City, USA and São Paulo, Brazil /
b. 1984, Boston, USA; lives in Berlin, Germany

Juliana and Zoë met during the Moscow International Young Art Biennale in 2016. They have since produced a number of collaborations taking the form of site-specific installations with a focus on representations of female sexuality and agency. Working with sculpture, light, scents, printed fabrics and organic elements such as plants, gelatin, clay and earth, their artworks elaborate on a tactile and sensual experience of form. These immersive installations are informed by feminist theory and a focus on undermining the body's insulation and segregation from its environment, through shapes that drip, dribble, spill and squish their way into existence.

CONTRIBUTION
Phytogyne Garden, 2019
Site-specific installation, mixed media, dimensions variable
Co-produced by Bergen Assembly 2019
Phytogyne Garden is a site-specific installation containing diffused oils, sculptural planters, medicinal herbs and grow-lights for cultivation. As an indoor sculptural garden, Juliana Cerqueira Leite and Zoë Claire Miller's collaborative artwork celebrates the empowering relationship that women have, and have had throughout human history, to medicinal herbs. The work specifically includes plants historically used in Scandinavia as emmenagogues and abortives, herbs which regulate female hormonal cycles and that can soothe menstrual cramps, PMS and menopausal symptoms. It is thus an investigation and celebration of the HERstory of HERbs.
In the installation, living herbs inhabit large planters while engaging the tactile, bodily and process-oriented nature of the artists' practices. A plant-based digital collage printed on chiffon encourages the re-popularisation of a branch of women's knowledge that has been largely lost as healing became de-personalised and claimed as the specialism of doctors and pharmaceutical companies. It shows how certain plants can be said to have a sisterhood with female chemical body language, and can help expand female agency and self-care today, as well as pointing to a form of resistance to the capitalisation of health and well-being.

RELATED PLATFORMS
Exhibition