Niklas Goldbach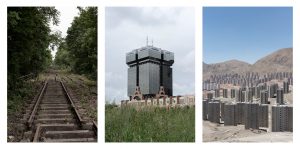 From the series "Permanent Daylight", 2013–ongoing, from left to right: Rheinische Bahn Mülheim, 2014; Amoreiras Shopping Center, 2018; Pardis Town, 2017
b. 1973, Witten, Germany; lives in Berlin, Germany
Niklas Goldbach has presented work in numerous solo shows, group exhibitions and festivals, including the Museum der Moderne, Salzburg; Museo Reina Sofia, Madrid; Mori Art Museum, Tokyo; Neuer Berliner Kunstverein and Berlinische Galerie, Berlin; Museum Ludwig, Cologne; Cornerhouse, Manchester; Centre Pompidou, Paris; and at the Short Film Festival Oberhausen and the Public Programs of documenta 14, Athens and Kassel.

CONTRIBUTION
Permanent Daylight, 2013–ongoing
Digital pigment prints on photo archive paper, 75 × 50 cm, framed
Presented at KODE 1 Permanenten / Salon and Bergen Kjøtt
Niklas Goldbach negotiates the relationship between architecture and ethics in their modernist traditions and postmodern manifestations. Predominantly working with video and photography, Goldbach dissects architectural elements and concepts that serve both as backdrops and catalysts of (neo)liberal and (neo)colonial subject construction.
For Bergen Assembly 2019, Goldbach presents a selection from his long-term, ongoing photographic series Permanent Daylight. Initiated in 2013, the series consists of more than 250 photographs taken at various sites around the world. All motifs depict human-made or human-shaped sites, their historic traces, or the first signs of their future materialisation/ dematerialisation. Yet they determinedly lack any human presence, accentuating the fundaments of our societal formations. The photographs are presented either individually ('Singles') or in fixed sequential constellations ('Figures'), the latter drawing upon essayistic associations between each other. In the exhibition, Goldbach presents two new sequences that have been specifically conceived for the conceptual framework of Actually, the Dead Are Not Dead.

RELATED PLATFORMS
Exhibition