Pauline Curnier Jardin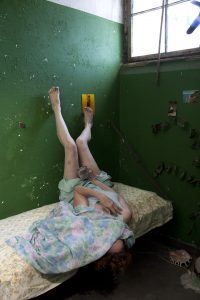 Pauline Curnier Jardin, "Qu'un sang impur", 2019, video still
b. 1980 in Marseille, France; lives in Amsterdam, Netherlands and Berlin,
Germany
Pauline Curnier Jardin works across installation, performance, film and drawing. She is currently writing her first feature film. Curnier Jardin starts from a selection of texts taken from the œuvre of poet and writer and activist Jean Genet, chosen together with art historian Marguerite Vappereau.


CONTRIBUTION
Qu'un sang impur, 2019
Producer: Amard Bird. Co-produced by Bergen Assembly 2019,
Freunde der Nationalgalerie / Nationalgalerie – Staatliche Museen zu Berlin, and If I Can't Dance, I Don't Want To Be Part Of Your Revolution
Comic troopers, bearded women, tamers of the jumping bean: when
interrogated about how I come to do art and what my artistic motivation
is, my mind wanders to the fair and the carnival, to a freak show
of characters, a gallery of species, substances and stories. I relate to
my practice through personas, through the embodiment and animation
of concepts and feelings, through the Rabelaisian spectacle that lets
myths come to life and facts melt to forms. The grotesque and the
primitive that are encapsulated in every motion of our life are always
ready to explode. I am a thwarted anthropologist, a wanna-be witch,
a profane devotee, a poet and a butcher. Crust of humus, magma
of pigment, puddle of mind. A cheeky satyr's face sits upon the body
of the whitest whale.
Particularly drawn by Genet's sole realised film Un Chant d'Amour (Song of Love, 1950), Curnier Jardin treats the work metaphorically as a costume that other bodies try on, and fantasises: what could be the Chant d'Amour performed by menopaused, non-glorious, bodies? This new parade of characters will unfold, within the editing of the film, inside a closed space, recalling the prison in the original film.

RELATED PLATFORMS

Exhibition