Pedro G. Romero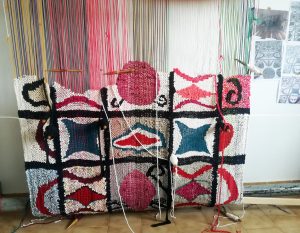 Teresa Lanceta and Pedro G. Romero, "Gallinero (Curia Julia)", carpet weaving, 2019, photo: Teresa Lanceta
b. 1964, Aracena, Spain; lives in Rome, Italy, Seville and Barcelona, Spain

Pedro G. Romero works across the fields of art, theory, literature, film, music, theatre and dance. He is an art and literature critic, publisher, essayist and flamenco expert. Since 2000 he has been working on the ongoing Archivo F.X., linking documents of anticlerical iconoclasm during the Spanish Civil War with avant-garde and contemporary artistic positions, and on Máquina P.H., realising various formats of artistic collaborations in flamenco performance.
Romero's projects have been presented at, among others, documenta 14 in Athens and Kassel (2017), 31st Bienal de São Paulo (2014), Manifesta 8 in Murcia and Cartagena (2010), the Catalan Pavilion at the 53rd Venice Biennale (2009) and SculptureCenter in Long Island City (2008). He has written numerous choreographies for flamenco dancer Israel Galván and curated exhibitions such as Poesía Brossa at MACBA in Barcelona (together with Teresa Grandas, 2017–18), Tratado de Paz for DSS2016 in San Sebastian (2016) and The Spanish Night: Flamenco, Avant-Garde and Popular Culture at Museo Nacional Centro de Arte Reina Sofía in Madrid (2007).

CONTRIBUTIONS
political parties
Curatorial Contribution by Pedro G. Romero and María García
When Bergen Assembly invited us to rethink the idea of what an assembly can be, our research focused on Asamblea general (General Assembly), an early 19th-century text by Serafín Estébanez Calderón (known as 'El Solitario'), which was an intimation of what flamenco would become. The text is an account of a feast, a description of a festive celebration of what was actually a kris: a Roma assembly, court or forum of the Andalusian Roma of Cádiz, Málaga and Seville, who gathered in Triana to resolve disputes, demarcate areas of influence, establish family ties, get to know each other and reinforce self-government.
From there, from the shift implicit in Asamblea general, we embarked on an archaeology of that joint understanding of party and political assembly. Asamblea general itself refers to the genealogy derived from Goya, who was also a key influence of Francisco Lameyer, the illustrator of the text. From that point, exploring fields such as bohemia (Rosario Weiss, SEM/EN, Carlos González Ragel), the avant-garde (Helios Gómez, the Cologne Progressives' Lumpenbälle, Federico García-Lorca) and the counterculture (Toto Estirado, Ocaña, Mario Maya), right up to the immediate present (PEROU, Flo6x8, Israel Galván), we have brought together some instances that express this conjoining of parties and politics in a single gesture. It should be understood that we are not talking about a dialectical pair, but rather a 'gay politics', in the sense of Nietzsche's gay science, which in its pathos makes no distinction between festive forms and the forms of politics. As Allan Sekula said in reference to Darcy Lange's work: 'it was not about a party to celebrate a political decision, but about the fact that the party is the community's only possible political space, where it finds and recognises itself'.

Teresa Lanceta/Pedro G. Romero
Gallinero (Chicken Coop), 2019
Live broadcast of tapestry (wool, cotton, acrylic, linen, rags, seeds, 6.5 × 1.65 m) installed in the henhouse of Langegården farm, Bergen; texts
The Romans gave us the legal system, but whenever a decree was passed in the Senate, a roost of prophetic chickens would have their say on the fate of this or that law. This relationship with magic mediated by chickens has often been parodied. In Rómulo Magno, Friedrich Dürrenmatt tells of the Empire crumbling while the emperor amuses himself with his chickens. The anecdote is based on Honorius, the emperor who thought only of the safety of one of his chickens (whose name was Rome) when he was told of the sacking of the city of Rome by Alaric the Goth. In City of God, Saint Augustine uses this episode of madness as an example of the decline of paganism. When English painter John William Waterhouse depicted the scene, he placed the emperor's chicken coop on an anachronistic Persian rug. And this is precisely the point of departure for the collaboration between Pedro G. Romero and Teresa Lanceta, an artist who has been weaving rugs for many years. The two had met and laughed about Martin Kippenberger's Chicken Disco (1953–97). Now they have spent months researching the perception of chickens, the way they understand space and time, in order to weave a rug that will hold them. Derrida called for what he termed the 'animot' to combine the cultural knowledge of animals with that which is zoologically inherent in them: being, indifferent to culture. This dual purpose led them to start a conversation about the 'chicken thieves', as Roma are still referred to in many parts of Europe. And they are still talking.

Teresa Lanceta and Pedro G. Romero had lived in the same city and even in the same building without meeting; they were not aware of each other. A few years ago Romero confessed to Lanceta his longstanding admiration of her early textile works, particularly those she had made in Barcelona, Granada, Madrid and Seville, when she had shared part of her life and living spaces with Roma people. They have continued to work together in various ways, here and there, on exhibitions and texts, and they are even putting together a story that began telling itself and has brought them here.

Pedro G. Romero based on Guy Debord, with María Salgado / Fran MM Cabeza de Vaca, Niño de Elche / Los Planetas / Andrés Duque, Julio Jara, Tomás de Perrate / Proyecto Lorca / María Marín, Javiera de la Fuente / José Ismael Sierra and Bettina Flatter
Canciones de la Guerra Social Contemporánea (Songs of the Contemporary Social War), 2019
Performances;
Video compilation, recordings, songbooks, documentation
Presented at KODE 1 Permanenten / Cabinet
In the late 1970s, Guy Debord made frequent trips around the Iberian Peninsula. In Spain and France, with Miguel Amorós and Jaime Semprún, he was in contact with the Autonomist movement, under names such as Los Incontrolados and Unos Iconoclasistas. It was in this context that he decided to put together a songbook of what he euphemistically described as the 'Spanish neo-democracy'. Needless to say, Debord was thinking of the songs of the civil war he sang by heart, of the popular songs compiled by Federico García Lorca and sung by La Argentinita, and of his relationship with the left-wing exiled Spanish, Latin American and European singer-songwriters living in Paris. In 1968, Debord had already made a version of the popular song '¡Ay Carmela!', in French, adapting it to reflect the Stalinist repression of the CNT and POUM on the streets of Barcelona in May 1937. Debord published his first compilation in a booklet entitled Canciones de la Guerra Social Contemporánea (Songs of the Contemporary Social War) in 1981, attributing authorship to 'Unos Iconoclastas'. He also tried to organise an initial recording in support of the members of the Autonomist groups imprisoned in Segovia, with Mara Jerez and her ' flamenco boys' and a combo in the spirit of Paco Ibañez. But neither the underground Automonist organisations nor Mara Jerez embraced the idea. Debord explored the utopian idea of Spanish or Iberian identity, and what he had at some stage called the 'new Babylonians': Roma, flamenco artists, anarchists, exiles and workers, singing their defeats.
Canciones de la Guerra Social Contemporánea (Songs of the Contemporary Social War) is a project by Pedro G. Romero, who has been endeavouring to reconstruct and put into circulation the songbook assembled by Debord under that title. Twenty-seven songs are presented in different ways – in compilations, concerts, performative presentations and grouped together with informational material. Aside from the artists present in Bergen, artists contributing to the project include: Kiko Veneno, Maria Arnal, Christina Rosenvinge, Lorena Álvarez, Maialem Lujambo, Rocio Márquez and Rosalia.

RELATED PLATFORMS
Exhibition
The Parliament of Bodies