Robert Gabris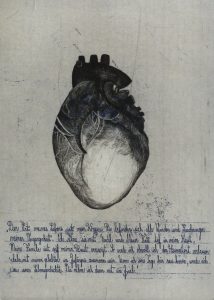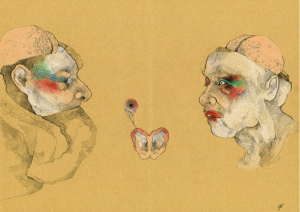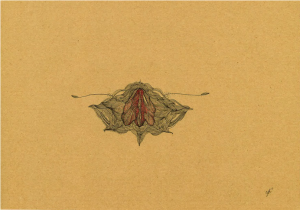 Robert Gabris, "Vierka vastu merav" (Vierka i die for you), 2014, from The Blue Heart series, Vienna / Udine
b. 1986, Hnusta Likier, Slovakia; lives in Vienna, Austria
Robert Gabris works with the medium of drawing and with experimental forms of printmaking, especially etching and engraving. His works are mostly autobiographical, autopsies of various identities, a constant searching for precise proportion and symmetry. Gabris understands these new experimental forms of drawing as a resistance to exclusion and racism, situating his work within the social critical, political and activist confrontation with identity and the perspectives of different minorities in a European context.

CONTRIBUTIONS
Autopsy, 2016
7 drawings, 0.25 mm fine liner on paper, six drawings 42 × 27.9 cm, each,
1 drawing 27.9 × 21 cm
Presented at Bergen Kjøtt

Anatomical Studies–Meat, 2016
5 drawings, 0.25 mm fine liner on paper, 21 × 27.9 cm each
Presented at Bergen Kjøtt

The drawings in the Autopsy and Anatomical Studies–Meat series are based on studies in the Anatomical Institute in Vienna.

The Blue Heart, 2016
Series of 5 drawings, copper engraving on paper, print 1/7, 70 × 50 cm,
each printed at Stamperia d'Arte Albicocco, Udine, Italy
Presented at Bergen Kunsthall
The engravings tell the story of a Roma village in Slovakia. The Roma minority is often viewed negatively due to poverty, unemployment and prejudice, and they constantly face existential problems and injustices. In these social conditions, many become delinquent and are imprisoned. My own father spent many years in jail. He told me that he had an important role there: he was the tattoo artist. My engravings attend to the moment when my father painfully scratches the memories of his family members into his skin. He records important data to his chest and his ears: the death of his first daughter or various excerpts from letters from his mistress. When I asked him about the meaning of these drawings, he showed me his chest and said: 'My body is the place of my life. All the wounds and drawings of my past are there. I scratched them with a needle and blue ink deep into my skin. My family is eternalised on my chest. Even though I left my home, I will be together with my beloved ones in prison. When I get out of here one day, I will become a life story. This I will take with me to the grave.'

RELATED PLATFORMS
Exhibition