Sarah Browne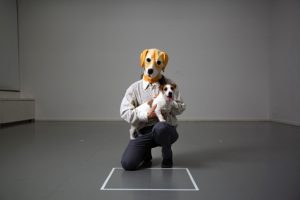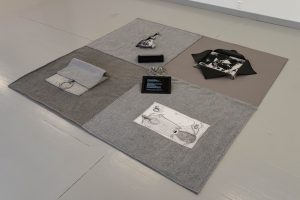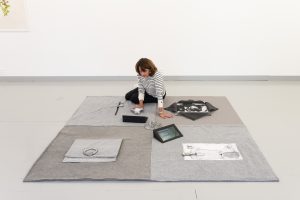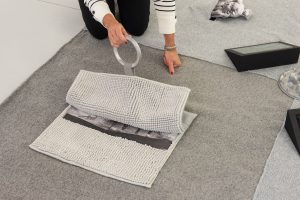 Sarah Browne, "The Shambles of Science", 2019, 4K video, 27′, sound, production photograph by Joshua Aylett
b. 1981, Dublin, Ireland
Sarah Browne is an artist concerned with non-verbal, bodily experiences of knowledge and justice. This practice involves sculpture, film, performance and public projects, as well as forms of writing and publishing in diverse contexts.

CONTRIBUTIONS

The Shambles of Science, 2019
4K video, 27′, sound
Epigenetic Activity Mat, 2019
Sculptural installation; textile, aluminium, silicone rubber, HD video
Dimensions variable
Sarah Browne presents two new, closely intertwined works. Her film The Shambles of Science, featuring human and canine protagonists, makes a connection between two historical events: the involvement of Swedish physiology students Lizzie Af Hageby and Leisa Schartau in anti-vivisection protests in London; and the contemporaneous force-feeding of suffragettes held in Holloway prison. Central to the film is the way the bodies of both the dogs and the women were represented in the contemporary press as prone and unspeaking, whether subject to illegal experiments or resisting state-sanctioned 'care' in the prison system. This could help to explain some of the affinity the women felt for the dog, which led to an unusual coalition of the vulnerable across the political spectrum. The image of the dog is here taken to ventriloquise proto-feminist ideas about bodily autonomy, dignity and political voice.
Like the film, the installation Epigenetic Activity Mat resonates with current
concerns of co-habitation and interspecies solidarity. The textile mat incorporates
printed images and cast objects inspired by tools of play and domestication, with an implicit warning of violence. The installation also encompasses two text excerpts presented as video: first-person testimonies of force-fed suffragettes and witness descriptions from the 1903 diaries of Af Hageby and Schartau that would ignite the so-called 'Brown Dog affair'. With this work, Browne speculates on the intergenerational effects of trauma, even between bodies that may not be obviously related.
The works are funded by the Arts Council / An Comhairle Ealaíon and supported by
the Swedish Arts Grants Committee.

RELATED PLATFORMS
Exhibition