Simnikiwe Buhlungu / Malebona Maphutse (former Title In Transgression members) feat. the Community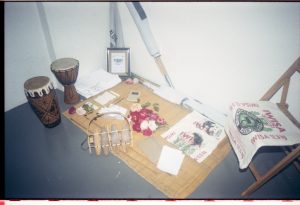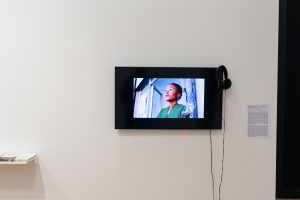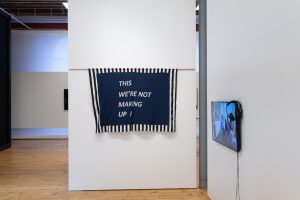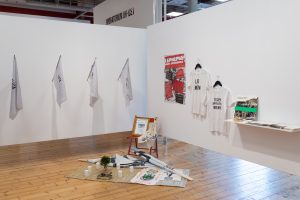 Title in Transgression, "In Loving Memory of Title In Transgression", på / at NGO – Nothing Gets Organised, Johannesburg, Sør-Afrika / South Africa, 2016
b. 1995 and 1994 respectively in Johannesburg, South Africa; live in Johannesburg

CONTRIBUTIONS
Number Last: In Loving Memory of Title in Transgression, 2019
Grass mat, wax candles, roses, photo frame, printed matter, publications, flags, banners, chair, foil food plates, imphepho (sage), t-shirts, tote bags; dimensions variable
Initially a response to the nationwide student protests and movements of #RhodesMustFall (2015) and #FeesMustFall (2015–) calling for free and decolonialised education in South African educational institutions, the installation revisits a sequence of attempted ends and deaths from the 2016 happening In Loving Memory of Title in Transgression held at NGO – Nothing Gets Organised in Johannesburg, South Africa. Using the form of a funeral, the gathering was an attempted death of the Johannesburg-based collective Title in Transgression. Established in 2016, Title in Transgression was an artists' collective, consisting of Simnikiwe Buhlungu and Malebona Maphutse, and former members Boitumelo Motau (b. 1995) and Dineo Diphofa (b. 1995).
Incorporating a number of signifiers of mourning, the space became one of celebration, with printed t-shirts, a video screening and a shrine adorned with paraphernalia embodying the short life of Title in Transgression (2016–18). Here, this theme is revisited in an attempt to reconcile this understanding of life and death through a form of remembrance and reflection. Added to the shrine will be memorabilia of those people, spaces, places, things, events, histories and futures that have influenced, supported, worked with and continue to work with Title in Transgression. Collectives take form within communities that support a network of individuals towards common goals. The works in this exhibition indicate that even after disbandment, Title in Transgression comes and goes, much like many other collectives in the broader arts context in South Africa and globally. The connections and communities that surround(ed) them still exist; collectivity always exists as a network.
The installation functions as a posthumous retrospective of Title In Transgression, including works made collaboratively within the collective, but also works made by former members in their respective practices, which together generate a conversation about the urgencies, questions and thematic methodologies that echo the spirit of self-organising, collaboration and collective practice. Formed at a time of frustration and disillusionment with the social and cultural instabilities both in the art world(s) and in how each artist navigates and locates their narrative within a larger societal framework, Title in Transgression sought to address creatively these slippages and frustrations through numerous artistic platforms and engagements. Conversations concerning narratives, historical points of reference, cultural production and their respective lived experiences informed both their collective as well as their individual practices.
Previous and ongoing projects include 76 Non-Monument (2016), a t-shirt printing initiative (with titles: Aluta Continua; Teacher Don't Teach Me Nonsense; Who Polices The Police?); In Loving Memory of Title in Transgression (2016) at NGO – Nothing Gets Organised, Johannesburg; #BhekaInTransgression (2017), a sound-based installation at Nirox Sculpture Park, Krugersdorp, and a window residency at Room Gallery, Johannesburg; Proclamation (2017), a creative research-based podcast residency with Johannesburg-based collective Rera Letsema, presented at the exhibition WE WON'T MOVE (2017) by Sikhumbuzo Makandula during Joburg Fringe VideoArt!; and Mangolo (2016–), an ongoing project.

RELATED PLATFORMS