Simon Sheikh
Simon Sheikh, member of the Bergen Assembly 2019 core group, is a curator and theorist. He is Reader in Art and Programme Director of the MFA Curating at Goldsmiths, University of London, a correspondent for Springerin, Vienna, and a columnist for e-flux Journal.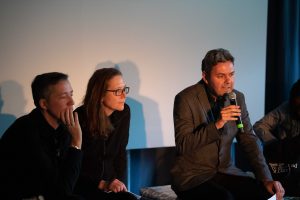 Simon Sheikh for Bergen Assembly 2019 Photo by Thor Brødreskift
Recent publications include the anthologies We are all Normal (with Katya Sander, Black Dog Publishing, 2001), Knut Åsdam (monograph, Fine Arts Unternehmen, 2004), In the Place of the Public Sphere? (b_books, 2005), Capital (It Fails Us Now) (b_books, 2006), On Horizons (with Maria Hlavajova and Jill Winder, BAK, 2011), Former West: Art and the Contemporary After 1989 (with Maria Hlavajova, MIT Press, 2016) and Curating After the Global (with Paul O'Neill, Lucy Steeds and Mick Wilson, MIT Press, 2019). He is currently working on a book about art and apocalypse entitled Its After the End of the World.
Simon Sheikh lives and works in Berlin and London.