Teatro Gitano Andaluz of Mario Maya
Established in 1976, Seville, Spain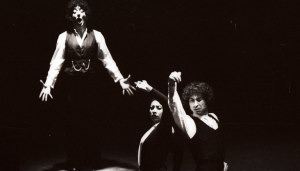 Teatro Gitano Andaluz de Mario Maya, Camelamos Naquerar, 1976

CONTRIBUTION
Camelamos Naquerar (We Want to Speak), 1976
Video of the homonymous performance, 17′
Camelamos Naquerar (We Want to Speak), written by Roma dramatist José Herdia Maya, depicts Roma people who finally give voice to their history. The play was conceived as a long documentary poem, spanning the period from the first Pragmatic Decree issued by the Catholic Monarchs against the Roma to their marginalisation at the time it was written. It includes the reading of legal mandates and historical chronicles, which are countered by the power of flamenco singing and dancing. The work was presented in an activist political context, in which Mario Maya's avant-garde flamenco brought to light harsh and often little-known texts on the repression and persecution of the Roma people.
From his studio, Zincale, which was a gathering place for Roma artists, musicians and poets, Mario Maya transformed flamenco musical theatre. Camelamos Naquerar broke with the dramatic conventions of flamenco theatre, of tablaos and tourist caves, but it also turned away from the private, family space of flamenco fiestas, adding a social and political dimension to the action unfolding on stage. The footage of the show recorded by the Italian public broadcaster RAI in the remote city of Guadix is a good illustration of this. In 1976, Miguel Alcobendas made a film of the same title, part ethnographic documentary and part dance show. This film made a powerful impression on Algerian-Roma filmmaker Tony Gatlif, who understood its true significance. In many respects, it proclaimed that being Roma was not just a cultural issue, but also a political choice.
His choreographic experiences, first with Pilar López (sister of La Argentinita and the true founder of post-war flamenco ballet) and then in New York studios, led Mario Maya (b. 1937, Granada; d. 2008, Seville) to put together a Roma flamenco theatre group. He wanted to express his political and activist concerns – not just his own and his people's social situation but also his personal way of understanding the use of the stage, of music and dance. The group produced two works – Camelamos Naquerar in 1976 and ¡Ay Jondo! in 1977 – with a controversial détournement of Andy Warhol.

RELATED PLATFORMS