The Creators of Oi! (Arsiema Z. Medhanie, Ayan Mohamed Moalim Abdulle, Cynthia Njoki Kangethe, Emma Wolukau-Wanambwa, Gift H. Solhaug, Hamisi Adam Moshi, Hinda Sheikh Ibrahim Farah, Malebona Maphutse, Mamadee King Kabba, Naomi Niyo Bazira, Omar Farah, Sheila Feruzi Kassim, Shelmith Mwenesi Øseth, Simnikiwe Buhlungu, Sufian Mulumba)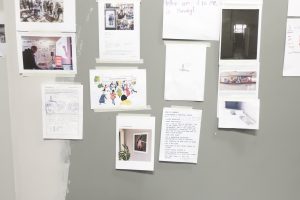 "Oi!" trykkeworkshop / printing workshop, 2019

CONTRIBUTIONS
Oi!, 2019
Risograph prints on paper, dimensions variable
Co-produced by Bergen Assembly 2019
Oi! was created by us, a group of people of colour who live and/or work in the city of Bergen. (In Norway, we are termed 'people from minority backgrounds'.) Some of us are here long- term, some of us short-term, some only on a part-time or temporary basis. Some of us have recently arrived in this city. Others of us have lived here (nearly) all our lives.
At the invitation of Bergen Assembly core group member and part-time local resident Emma Wolukau-Wanambwa, we have met regularly and in a variety of configurations at Belgin, the Bergen Assembly space, and online, since April of this year – firstly, to exchange our experiences of what it means to be a person of colour in Bergen in 2019, and secondly, to develop a series of prints through which we could begin to make visible and share those experiences with others.
These prints, which were produced collectively and collaboratively, draw on our research and on personal insights and experiences – our own, as well as those of our friends, our families and our allies. They also serve as traces of the long, wide-ranging and often painful conversations that we, just like many previous generations of people of colour in Norway, have had about how challenging life can be like for us here. Some of our members have reported that it has been within this group that, for the first time in their lives, they have felt comfortable enough to speak openly with strangers about their experiences of racial discrimination.
Having this series of discussions and working together to produce these prints has been an amazing and, for some of us, transformative experience. We are now therefore committed to finding ways to keep working together creatively to strengthen the voices of Norwegian people of colour in this city, beyond the lifespan of Bergen Assembly 2019.
We are grateful to the RISO workshop Pamflett (and in particular to Ann-Kristin Stølan) for their collaboration, and we thank Simnikiwe Buhlungu and Malebona Maphutse for sharing with us the incredible printmaking skills they specially imported from Johannesburg for this project.
RELATED EVENT

RELATED PLATFORMS