Toto Estirado / Gonzalo García Pelayo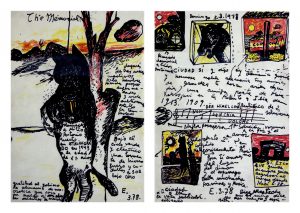 Toto Estirado, "Schizoid Drawings: The Memorial 1", 1978; "The Memorial 5", 1977
b. 1939, Usagre, Spain; d. 1994, Badajoz, Spain / b. 1947, Madrid, Spain

CONTRIBUTIONS
Gonzalo García Pelayo
Vivir en Sevilla (Living in Seville), 1978
Film, excerpt with Toto Estirado, 4′
'Toto' (José Antonio) Estirado
Schizoid Drawings: The Memorial 1, 1978; The Memorial 5, 1977; Notas
íntimas, 1977; Notas íntimas, 3, 1978
Drawings, 30 × 20 cm, each
There was an interesting connection between Toto Estirado and Los esquizos, a group of artists (Carlos Alcolea, Guillermo Pérez Villalta, Manolo Quejido, Chema Cobo and others) who came together around painter Luis Gordillo, and who were radically influenced by the writings of Deleuze and Guattari. Estirado was a schizophrenic artist, or at least he was undergoing psychiatric treatment. In those years, from 1968 to 1977, under the effects of various psychotropic drugs, he produced works that fiercely connected with the intellectual pitch of Los esquizos: nomadism, organology, deterritorialisation and so on.
As can be seen from his participation in the film Vivir en Sevilla (directed by Gonzalo García Pelayo, 1978), Estirado presented political issues as part of festive practices. The focus had shifted from seeking self-awareness to using the signs of the time (the riots of 1968, the anti- Franco struggle, the political transition, the fight against the 'social dangerousness' laws, the release of prisoners, etc.) as an illness, as the discursive development of pathological modulation. In this sense, his work can be seen as a symptom of a particular era and place: political resistance experienced in terms of partying, revelry, carnival, hullabaloo! When Estirado says, 'the political transition will end when they go back to separating political prisoners and ordinary prisoners. When we artists stop mixing with criminals!', his words clearly reflect an inclination towards art at a particular time. It should be noted that when Estirado started using heroin in the 1980s, his drawings and paintings changed radically. He turned his back on the figurative frenzy of his previous work and focused on alienated representations of landscapes and idiosyncratic still lives.
Toto Estirado and Gonzalo García Pelayo had already met in the 1960s, when working on the radical countercultural publication Manifiesto de lo borde with Julio Matito and other members of the rock band Smash. The aesthetics, or stage manifesto, of lo borde (rudeness or uncouthness), developed by the independent theatre group Esperpento, were later, much more self-aware artistic manifestations. This 'uncouth' spirit is key to understanding the singular relationships between popular and highbrow culture during the political transition in Spain, which philosopher Mario Perniola called the 'lumpen-intelligentsia'.

RELATED PLATFORMS