A Conversation on art+education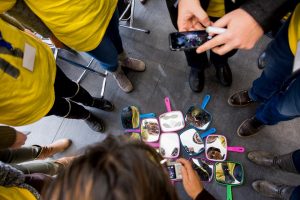 Courtesy Pedagogias Invisibles
On Monday, 17 June, from 4 to 7pm, we welcome you to a conversation with the education and mediation team of the Bergen Assembly on art+education.
The education and social turns are firmly established in the field of arts. Together with the term participation they provide a framework to rethink, analyse and develop the role of the mediator. Recognising the role of the mediator within the arts, galleries and museums opens up for new possibilities in the field. To encourage growth within art mediation it is fundamental to question the structures of organisation that surround the mediator's role by analysing the organisational work of professionals as well as conditions and constellations of institutions, collectives, communities and professional associations. What are the objectives of art mediation? Which different types of mediation practices have developed? Is there specific and adequate training in the field and what are the working conditions of the mediators?
This conversation will be led by Pedagogías Invisibles, a collective concerned with the ways in which culture and knowledge are produced and legitimised, to whom it includes and excludes. Pedagogías Invisibles approach these questions from an interdisciplinary field that they call art+education, a field that places art mediation in a privileged space of action and research.
In the words of Pedagogías Invisibles, "we want to meet to share our research and experiences to address the commonalities and differences that occur in Bergen." For this, they will present two of their most recent researches: Art+Education Cartographies where they approached 30 Spanish artist-educators to gain perspective on the key points of their roles and methodologies, and Still Picture: Situation of Art Mediation in the Spanish State 2018-19 which focuses on the structures that define professional practices in art+education.
The conversation is open to professionals of education and mediation in the city of Bergen, to students of arts and education who see mediation as a professional option, to social agents who think about how mediation can be an ally in their work, and to all those people interested in these issues from different areas and who want to develop the field of mediation in Bergen.
Should you have any further questions please address them to daniela@bergenassembly.no

RELATED PLATFORM
Education and Mediation