Adjø Bar Belgin!
Friday, 8.11.
8pm–1.30am
•Last Bar Belgin
•Music by Daisuke, Tolga and Reckless Kettle
•Admission free
•Belgin, Rasmus Meyers allé 3, 5015 Bergen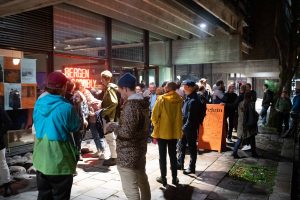 Belgin Photo: Thor Brødreskift
Daisuke
Like an exquisitely buttered piece of toast, expect an evenly shallow spread of random electronics.
Tolga
Mixes, edits and mashups that use material from Library music, Anatolian Pop to Arabesk and related genres make for an explosive mix of melancholy and rhythm.
Reckless Kettle aka. Fergus Tibbs
You can find him playing pretty much any type of music (as long as is good). This Friday you'll hear him playing a broad mix of anything from 70s Ghanaian funk to Latin American rhythms and some middle eastern sounds too. He will be digging into his record collection to find you some of his favourite tracks from around the world.