What is Capitalism and Where is it Taking Us?
Friday, 31.5.
7pm–10pm
Performative lecture and workshop with Capital Drawing Group member Andrew Cooper
•Belgin, Rasmus Meyers allé 3, 5015 Bergen
•Admission free, in English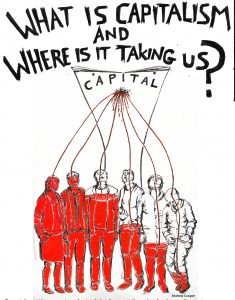 © Andrew Cooper
Come and take part in an easy to understand visual presentation with drawings and puppets, hosted by Capital Drawing Group member Andrew Cooper. Using illustrations and demonstrations we will introduce and explore Marx's ideas in Capital, which we will engage with together and think about how they relate to our lives. We will also look at methods of resisting capitalism learned from the struggle for housing in London.
Capital Drawing Group (Andrew Cooper, Enda Deburca, Dean Kenning, John Russell) grew out of a Marx reading group. The project collectively illustrates Das Kapital and is an attempt to visualise the economic and political forces that dominate our lives today, often in disguised and complex ways, as described by Marx. The ongoing work is to be understood as a reading and as a political and pedagogical resource.