Imogen Stidworthy in conversation with Iris Johansson
Tuesday, 5.11.
7pm–9pm
•Conversation with artist Imogen Stidworthy and therapist and writer Iris Johansson, hosted by Bergen Assembly 2019 convener Iris Dressler
•In English and Swedish
•Admission free
•Belgin, Rasmus Meyers allé 3, 5015 Bergen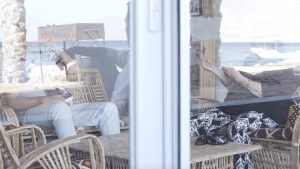 Imogen Stidworthy, "Iris [a fragment]", 2018, video still
Swedish therapist and writer Iris Johansson was non-verbal until she learned to speak in a communicative sense at the age of 12 and to write at the age of 30, but as she says, ' I will always be autistic'. She is the focus of Imogen Stidworthy's video installation Iris [A Fragment] – the latest installment of Stidworthy's long-term research into voicing in the borders of language and currently on view at Bergen Kunsthall within Bergen Assembly 2019.
In this conversation, Iris Johansson will talk to Imogen Stidworthy about her biography and how it invites us to think about self-hood and social relationship in completely different ways. 
As a child she experienced her body and self/me according to two different paradigms which she called the 'Real' and the 'Ordinary'. Over many years she learned to live in the Ordinary reality and to connect with the social world.
We will be talking about how these experiences have shaped Iris' approach to therapy and wider societal perspectives. We will be discussing different ways of conceiving language, voicing, being and care; and how engaging with different modes of being changes our own.