Opening Days
Sunday, 8.9.
11am–7pm
•All venues
•Admission free
•Feminist Gaming Group, Magdalena Freudenschuss, Julio Jara, Daniel Mariblanca, María Marín, Tomás de Perrate, Proyecto Lorca, peter steudtner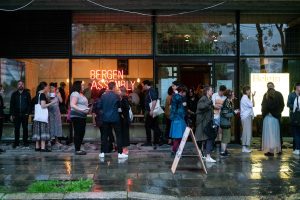 The Parliament of Bitches, 15.6.2019, Belgin, photo by Thor Brødreskift
Actually, the Dead Are Not Dead – Bergen Assembly 2019 begins its packed autumn programme with a long weekend (Thursday morning to Sunday afternoon), featuring the opening of the exhibition across five venues – Bergen Kjøtt, Bergen Kunsthall, Entrée, Hordaland kunstsenter and KODE 1 Permanenten – as well as performances, concerts, parties, talks, workshops and walking tours. The second edition of the Parliament of Bodies in Bergen, The Impossible Parliaments, takes place on the evening of Saturday, 7 September.
There are extended exhibition opening hours during the Opening Days: all exhibition venues are open from 11am to 7pm.
Get to know the platforms and themes of the 2019 edition and meet the conveners, collaborators and contributors of this year's triennial!

SCHEDULE
11am–7pm
All exhibition venues open

11.30am–12.30pm
Magdalena Freudenschuss, peter steudtner, preparing4prison
Workshop
Berg Kjøtt / Slakt
How do we live solidarity? Why is care political? The workshop focuses on everyday engagement, while looking at creativity and self-care as foundations of sustainable activism. preparing4prison and its backgrounds are introduced.
preparing4prison (p4p) collects experiences, stories and best practices of the involuntary assemblies of people imprisoned due to their activism. Virtually assembled at www.preparing4prison.org, p4p offers an easily accessible crisis response kit that does not prescribe a certain way of coping with this particular kind of crisis, but allows for inspiration and guidance as much as for rejection of the proposed strategies.
Starting from their own experience around the case of the Istanbul 10, Freudenschuss and steudtner collected experiences, stories and tips from human rights defenders who were subjected to arrest and imprisonment. They invited affected family members and lawyers to share their insights, feeding their lived knowledge of bodies, affects, relations and tactics back to the community of human rights defenders.
The online resource is made available for appropriation, adaptation and repurposing, for example in this workshop. Freudenschuss and steudtner open the space to local activists, as well as to participating artists, inviting them to add to the assembled stories and experiences.

12–12.40pm
Bergen Assembly mediates Bergen: Kolonisering – Hva er egentlig det? (Colonisation – What is it really?)
Tour of the permanent exhibition Inntrykk fra Koloniene at the Bergen University Museum of Cultural History with Zeregabr Bereketab Germastien, Arsiema Medhanie and Naomi Niyo Bazira
Limited capacities, for participation please register at inntrykk@bergenassembly.no
This tour offers an opportunity to view and to discuss the permanent exhibition Inntrykk fra Koloniene ('Impressions from the Colonies') at the Bergen University Museum of Cultural History. This exhibition, installed in 2014, was inspired by recent research into Norway's involvement in the transatlantic slave trade and the project of European colonialism in the 19th and 20th centuries, and reflects upon the consequences and continuities of these histories in the contemporary moment.
Taking the exhibition as a starting point, this tour invites participants to discuss critical questions about colonial legacies, society and museums: Who speaks in the museum? Whose stories are told? How is the colonial past discussed and represented? What are the implications for the present?

1–4pm
Feminist Gaming Group: Call of Duty: WWII
Gaming Session, limited capacities, for participation please register at gaming@bergenassembly.no
Entrée
The Feminist Gaming Group is organising intense multi-player gaming sessions for beginners. The sessions are semi-private, by RSVP only and are tailored for people with little knowledge of video games. The composition of the group will vary depending on the game being played. The Feminist Gaming Group specifically addresses individuals who identify as women and non-binary.
For this session we will play Call of Duty: WWII. The Call of Duty series popularised first-person shooter (FPS) games. This version has been particularly praised for its depiction of Second World War events, addressing war crimes and genocide.
This session is by and for beginners. We provide laptops with the game already installed if your laptop isn't able to run the game. You can just come in and play! In case you are bringing your own laptop, please bring a mouse and headphones along with your computer. This makes a huge difference in terms of the gaming experience. Don't forget your charger – you will definitely need it! Sweets, snacks and beverages are welcome! If you want, you can purchase Call of Duty: WWII on Steam and run it on your laptop (https://store.steampowered.com/app/476600/Call_of_Duty_WWII/). This might require you to free up some space. If you don't manage it or it doesn't work, please don't worry, just let us know!

1pm
political parties: Canciones de la Guerra Social Contemporanea
Julio Jara, Performance, approx.10′
Tomás de Perrate, Proyecto Lorca and María Marín, Performance, approx. 60′
Belgin
In the late 1970s, Guy Debord made frequent trips around the Iberian Peninsula. In Spain and France he was in contact with the Autonomist movement. It was in this context that he decided to put together a songbook of what he euphemistically described as the 'Spanish neo-democracy'.
Canciones de la Guerra Social Contemporánea (Songs of the Contemporary Social War) is a project to reconstruct and put into circulation the songbook assembled by Debord under that title. Twenty-seven songs are presented in different ways and by various artists – in compilations, concerts, performative presentations and grouped together with informational material.

3–4pm
71BODIES, In First Person Research
Work-in-process presentation, approx. 45′; Q&A
Belgin
In First Person Research is a collaborative artistic process initiated by 71BODIES/Daniel Mariblanca in collaboration with the filmmaker Ursula Kaufmann and Tonje Havstad, one of the protagonists of Mariblanca's previous work 71BODIES 1DANCE. The work-in-process presentation includes a short film documentary, an expert of a choreographic piece as well as a Q&A with the audience on sharing personal stories of trans experiences within the frame of both intersectional politics and interdisciplinary art practices.

4.30pm
Get together with core group and contributors of Bergen Assembly 2019
Belgin

OPENING DAYS PROGRAMME
Thursday, 5.9.2019
Friday, 6.9.2019
Saturday, 7.9.2019