Opening Days
Thursday, 5.9.
11am–3am
•All venues
•Admission free
•Anne de Boer, Eloïse Bonneviot, Chicago Boys, Iris Dressler, Hans D. Christ, María García, Nora Heidorn, Darcy Lange / Maria Snijders, KIRARA, Katia Krupennikova, Skatebård, Simon Sheikh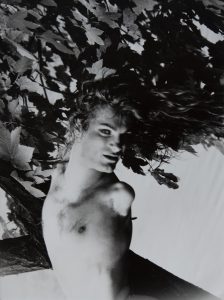 Lorenza Böttner, Untitled, no date, photograph, 40,3 x 30,4 cm, courtesy private collection
Actually, the Dead Are Not Dead – Bergen Assembly 2019 begins its packed autumn programme with a long weekend (Thursday morning to Sunday afternoon), featuring the opening of the exhibition across five venues – Bergen Kjøtt, Bergen Kunsthall, Entrée, Hordaland kunstsenter and KODE 1 Permanenten – as well as performances, concerts, parties, talks, workshops and walking tours. The second edition of the Parliament of Bodies in Bergen, The Impossible Parliaments, takes place on the evening of Saturday, 7 September.
There are extended exhibition opening hours during the Opening Days: all exhibition venues are open from 11am to 7pm.
Get to know the platforms and themes of the 2019 edition and meet the conveners, collaborators and contributors of this year's triennial!

SCHEDULE
11am–7pm
All exhibition venues are open

11am–1pm
Opening
With Julie Andersland (City of Bergen, Commissioner for climate, cultural affairs and business development); Ingrid Haug Erstad (director Bergen Assembly), Bergen Assembly 2019 conveners Hans D. Christ and Iris Dressler and core group members
Belgin

1–5.15pm
Introduction to the exhibition sites
Join for partial segments or the whole tour
1pm
Bergen Kunsthall
With conveners Hans D. Christ and Iris Dressler
2pm
KODE 1 Permanenten
With Hans D. Christ, Iris Dressler and María García
3pm
Entrée
With Anne de Boer, Eloïse Bonneviot and Simon Sheikh
3.30pm
Hordaland kunstsenter
With Nora Heidorn
4.30pm
Bergen Kjøtt
With Katia Krupennikova

6–7pm
political parties: Darcy Lange and Maria Snijders, Aire del Mar
Multimedia performance (re-construction)
Guitar: Marco El Escocés, José Ismael Sierra; dance: Javiera de la Fuente; singing: Javiera de la Fuente, José Ismael Sierra; choreography: Marco de Ana
KODE 1 Permanenten / Salon
The artist Darcy Lange (1946-2005) travelled to Morón de la Frontera, Seville, on numerous occasions to work and study guitar with Diego del Gastor. Under the pseudonym Paco Campana, he worked as a flamenco guitarist and continued to perform in New Zealand until his death. He also included flamenco in two complex multimedia operas: People of the World (1983–84) and Aire del Mar (1988–94). In the latter, he likened the struggles of the Maori and the Roma people against colonial oppressors, but also their roles in the defence of nature. He described Aire del Mar as an 'audiovisual environmental opera'. The piece, including a synchronised slide and video installation, has been reconstructed in 2019 for Tabakalera in San Sebastián, Spain.

8.30–10pm
Chicago Boys
Initiated by Hiwa K, in collaboration with Alwynne Pritchard and Vegard Bolstad
Music performance
Belgin
For Bergen Assembly 2019, Hiwa K initiated a new constellation of the open band and study group Chicago Boys with participants from Årna, a district of Bergen. The process is based on research that sheds light on the beginnings of neoliberalism in the various countries of origin of its participants. Recalling the music of the period, the group compiles a playlist that is then orchestrated and performed.

10.30–11.30pm
KIRARA
Music performance
Bergen Kunsthall / Landmark
I make dance music influenced by house music / big beats. I try to make loud dynamic sounds that combine energy and complex melodies with the end goal to make people dance. It is hard to explain the main genre; I think there is no musician who makes a similar style to me. I take inspiration from Chemical Brothers and Cornelius from Japan. Chemical Brothers taught me how to build textures on drum sounds and using live drum samples in an electronic environment. (KIRARA, quoted in: www.noisegate.com)

00.00–2.30am
Skatebård
DJ Set
Bergen Kunsthall / Landmark

ADDRESSES
Belgin, Rasmus Meyers allé 3, 5015 Bergen
Bergen Kjøtt, Skutevikstorget 1, 5032 Bergen
Bergen Kunsthall, Rasmus Meyers allé 5, 5015 Bergen
Entrée, Markeveien 4b, 5012 Bergen
Hordaland kunstsenter, Klosteret 17, 5005 Bergen
KODE 1 Permanenten, Nordahl Bruns gate 9, 5014 Bergen

OPENING DAYS PROGRAMME
Friday, 6.9.2019
Saturday, 7.9.2019
Sunday, 8.9.2019