Saturday Walk: "political parties" with Daniela Ramos Arias
Saturday, 14.9.
2pm–4pm
•Education and Mediation
•Meeting point: Belgin, Rasmus Meyers allé 3, 5015 Bergen
•Admission Free
•No registration necessary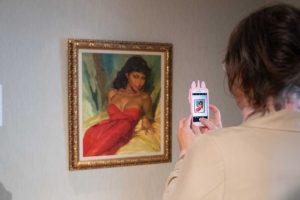 Charles Roka, "Sigøynerpike", KODE 1 Permanenten / Cabinet, photo by Thor Brødreskift
During this Saturday Walk, we will explore the curatorial contribution political parties by core group members María García and Pedro G. Romero at KODE 1 Permanenten.
Saturday walks take as a starting point the idea of the guided tour at the gallery or museum. Participants are invited to join specially devised walks that draw upon the concepts of Bergen Assembly 2019. Together with mediator Daniela Ramos Arias, participants follow a choreographed route, looking at and discussing individual works and speculating on their interconnections.
The aim of the programme is to break with the conventions and constraints of formal mediation and avoid knowledge reproduction. The mediator will provide an approachable and comfortable space for the participants' voices to be active and heard.
Guests from the Bergen Assembly team, core group and contributors will join the mediator in co-hosting some of these walks, offering their perspectives, opinions and experiences to the group and allowing the possibility to listen to and learn from the story from the perspective of the 'maker'. At the end of each walk, we will gather at Belgin for coffee and cake. Sitting together around the table we will have the chance to gather our thoughts, collectively or individually, reflecting upon our experience.

RELATED PLATFORM
Education and Mediation