Paul B. Preciado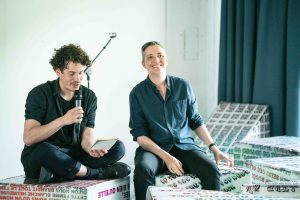 Viktor Neumann / Paul B. Preciado, The Parliament of Bodies, 15.6.2019
Paul B. Preciado, member of the Bergen Assembly 2019 core group, is a philosopher, curator and activist in the fields of gender and sexual politics. He is the author of Countersexual Manifesto (Columbia University Press, 2002), Testo Junkie: Sex, Drugs, and Biopolitics (The Feminist Press, 2013) and Pornotopia (Zone Books, 2014), for which he was awarded the Sade Prize in France.
Preciado teaches Philosophy of the Body and Transfeminist Theory at Université Paris VIII-Saint Denis and at New York University. He has been Curator of Public Programmes at documenta 14 (2017) and Head of Research as well as Director of the Independent Studies Programme (PEI) at MACBA in Barcelona. He has curated numerous exhibitions and interventions, such as The Passion According to Carol Rama at MACBA and others (2013–16), IM/MUNE at Emmetrop in Bourges, Cuir International at Museo Nacional Centro de Arte Reina Sofía in Madrid (both 2011) and PornPunkFeminism at Arteleku in San Sebastián (2008). He is the curator for the Taiwanese Pavilion at the 58th Venice Biennale (2019).
Paul B. Preciado lives and works in Paris.

RELATED PLATFORM

RELATED EVENT