Parliament of Bodies
lørdag, 15.6.
19.00–07.00
En hel natt med diskusjoner, musikk, performance, dans, filmvisninger og ritualer
Med Aérea Negrot, Betty Apple, Synnøve Bendixsen, Banu Cennetoğlu, Nikita Dhawan, Sarah Diehl, Tsaplya (Olga Egorova) and Kolyan Tatyana (Nikolay) Oleynikov from Chto Delat, María Galindo, Jack Halberstam, Ama Hanssen, Caspar Heinemann, Max Jorge Hinderer Cruz, Nelli Kambouri, Theodore (ted) Kerr, Ewa Majewska, Daniel Mariblanca, Jota Mombaça, Mari Norbakk, Narcissister, Elin Már Øyen Vister, Margarita Tsomou, Sunniva Vik, med flere.
Utviklet av Paul B. Preciado og Viktor Neumann
•Belgin, Rasmus Meyers allé 3, 5015 Bergen
•Gratis inngang
•ingen registrering, kom og gå som du vil
•Arrangementet foregår på engelsk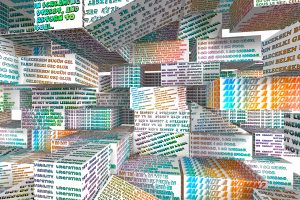 Andreas Angelidakis, Sketch for "LOGOS", 2019, courtesy The Breeder gallery, Athens
The Parliament of Bodies (PoB) samles for første gang i Bergen 15. juni, og inviterer alle stemmer og kropper til en antifascistisk, transfeministisk og antirasistisk koalisjon. Dette er den første av mange PoB-aktiviteter under Bergen Assembly 2019.
PoB er et sted for de stemmeløse og underprivilegerte. Her samles mennesker til en frydefull anerkjennelse av kroppslig avvik og transfeministisk kritikk. Her feires fysisk sårbarhet og emosjonell tilhørighet som går utover identitetspolitikk.
Vi nærmer oss sommersolverv, og Parliament of Bitches samles til en tolv timer lang, lys natt både for å feire og videreføre undergrunnsbevegelser for feministisk motstand, kjetterske samlinger av hekser, somatopolitiske avvikere, kvinner, transkvinner og ikkekvinner, antikolonialistiske og antipatriarkalske seksuelle krigere og helbredere. Det blir diskusjoner, musikk, performance, filmvisning, dans og ritualer fra en rekke bidragsytere.
PoB ble utviklet av forfatteren og filosofen Paul B. Preciado som del av documenta 14 (2017). Kunsthistoriker og kurator Viktor Neumann ble deretter også med i prosjektet.
NATTENS TIMEPLAN
Dørene åpner 18.30
Programmet starter 19.00
19.00–19.15
Paul B. Preciado og Viktor Neumann: Introduksjon
19.15–19.30
Maria Galindo: the skin of the fight, the skin of history: la piel de la lucha, la piel de la historia
(Del 1)
19.30–20.10
Ewa Majewska: Reclaiming the Bitches. Radical Care taking, resistance as feminist critique
20.10–20.50
Jack Halberstam: Nothing
20.50–21.30
Daniel Mariblanca: 71BODIES 1DANCE EXTRACTS
21.30–21.50
PAUSE
21.50–22.30
Nikita Dhawan: The Non-Performativity of Assemblies: State Phobia and the Erotics of Resistance
22.30–23.10
Synnøve Bendixsen, An-Magritt Hanssen, Mari Norbakk, og Sunniva Vik (The Society in Translation) og Banu Cennetoğlu: Notes on the Politics of Listing, Naming, and Framing
23.10–23.40
Elin Már Øyen Vister: Sirkelens Historie forteller # akt 1, the history of the circle speaks
23.40–00.20
Nelli Kambouri, Max Jorge Hinderer Cruz, and Margarita Tsomou (The Apatride Society of the Political Others): When our identities collapsed – the ithagenia condition
00.20–00.40
PAUSE
00.40–1.20
Sarah Diehl: Trust Women – Activism on safe abortion access
1.20–2.00
Theodore (ted) Kerr: What's in a Name? What's in a Grave?
2.00–2.30
Narcissister: Diverse fremføringer
2.30–2.50
PAUSE
2.50–3.30
Chto Delat: One night
3.30–4.00
Jota Mombaça: THE BIRTH OF URANA – TRANSITIONING TOWARDS THE EARTH
4.00–4.30
Caspar Heinemann: sun is the dad: Some Notes on Eschatology, Cum, and Science for the Ages
4.30–5.00
Betty Apple: Vibrator love of sound 14
5.00–5.30
María Galindo: the skin of the fight, the skin of history: la piel de la lucha, la piel de la historia
(Del 2)
5.30–7.00
Aérea Negrot: DJ-sett